Utah Security Camera Installation
When your business needs a CCTV solution or security camera monitoring on-premise, turn to Precision Wire & Telephone for solutions. We have the skills to complete professional security camera installation at your commercial property, whether you need a couple of cameras or a complete network of them.

Camera Placement
Companies choose us above other commercial camera installation companies in Utah because of our foresight for cameras. We consult with you on-site and inspect the property to help you determine the best location for camera placement. Our focus is on exposure, with cameras placed strategically to give you the full picture of your facilities. From ingress and egress sites, to perimeter surveillance, to high-value asset monitoring, we'll make sure your cameras are focused on the right stuff.
Networking and Configuration
With IP-connected cameras and robust network integration, we turn your surveillance installations into a highly visible CCTV system for you. Whether you have an active monitoring station or want the ability to tune in remotely, we configure your cameras for cloud and network compatibility—including live feeds, video backups, light and sound integration, and much more.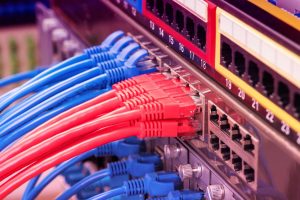 Need Surveillance Solutions?
Security cameras are a smart investment for everything from employee safety, to accountability, to deterrents for theft and vandalism. Let Precision Wire & Telephone provide your facilities with the interior and exterior security cameras you need to always have an eye on the action. Contact us today at 801-298-8989 for more information about the commercial camera installation we deliver and our approach to security camera services, VOIP phone installation, and network cabling services for Bountiful, Centerville, Woods Cross, and all Utah businesses.